Telling Tails
1,006 Days
All adoptions are special. But, I'll admit, some are just more special. Anyone who works for a shelter would say the same.
Animals touch us differently. Sometimes, this is based on what they endured before coming into our care and the remarkable transformation they make through our hard work and the SPCA's TLC Program. Other times, it's the special people who adopt them and the great feeling knowing the match is perfect, that the animal will be loved and give the person, couple or family every bit as much in return.
We had two of these "more special" adoptions recently, both horses. We never put time limits on our adoptable pets, but once dogs and cats are made available for adoption at the SPCA -- after we've spayed/neutered them, and completed any necessary medical and/or behavior work -- we rehome them, on average, in 6-7 days!  For horses, it's closer to one year. There's simply a much smaller market of people looking to adopt and people fully prepared in all ways, including financially, to care for horses. 
Suffice it to say we get to know the horses well, especially Jack and Scout.
Jack came to us in November of 2016, when I was three months into my SPCA position and still learning that "gelded" means neutered and "floated" describes the process by which the sharp edges of a horse's teeth are filed.  
Jack, a stallion, was rescued by our Humane Investigations officers. Underweight, suffering from significant neglect and challenging to handle for our most experienced Barn staff. He required several months of veterinary treatment and, yes, we gelded him (and floated him, too!).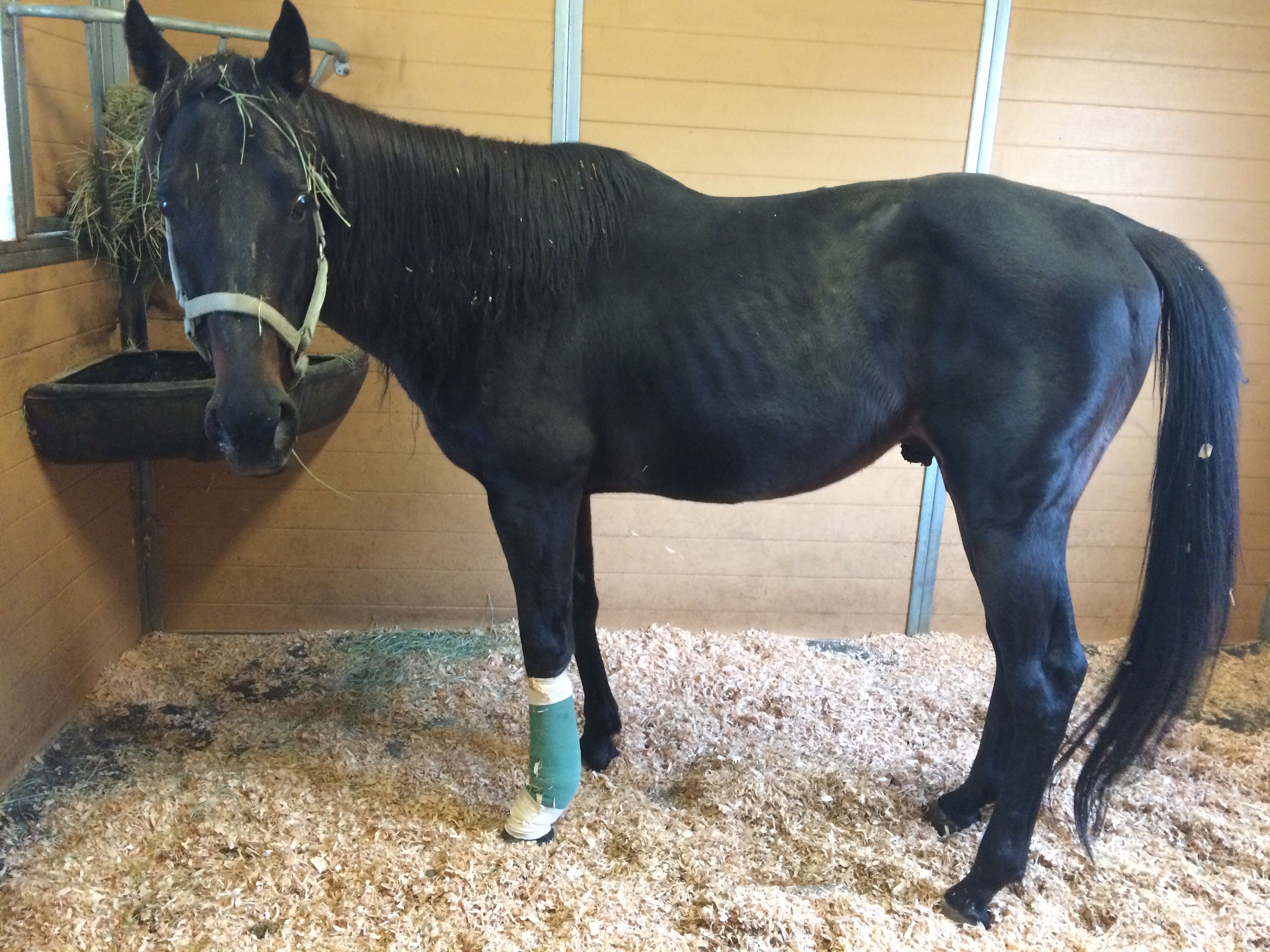 Next, he needed to get comfortable being handled, something any adopter would surely want. This "gentling" process lasted months; our Barn staff spent hours patiently halter training him and with assistance from expert horsemen Dave Hillman and Buck Brannaman (the real life inspiration for The Horse Whisperer), Jack was trained to load into a trailer and he was started under saddle. 
Jack needed a special adopter and one arrived nearly three years after he joined us!  A longtime SPCA friend inquired about a pasture mate for his mare who recently lost her companion. Jack is loving his new home! His long-term care and ideal placement would not have been possible without generous support from donors.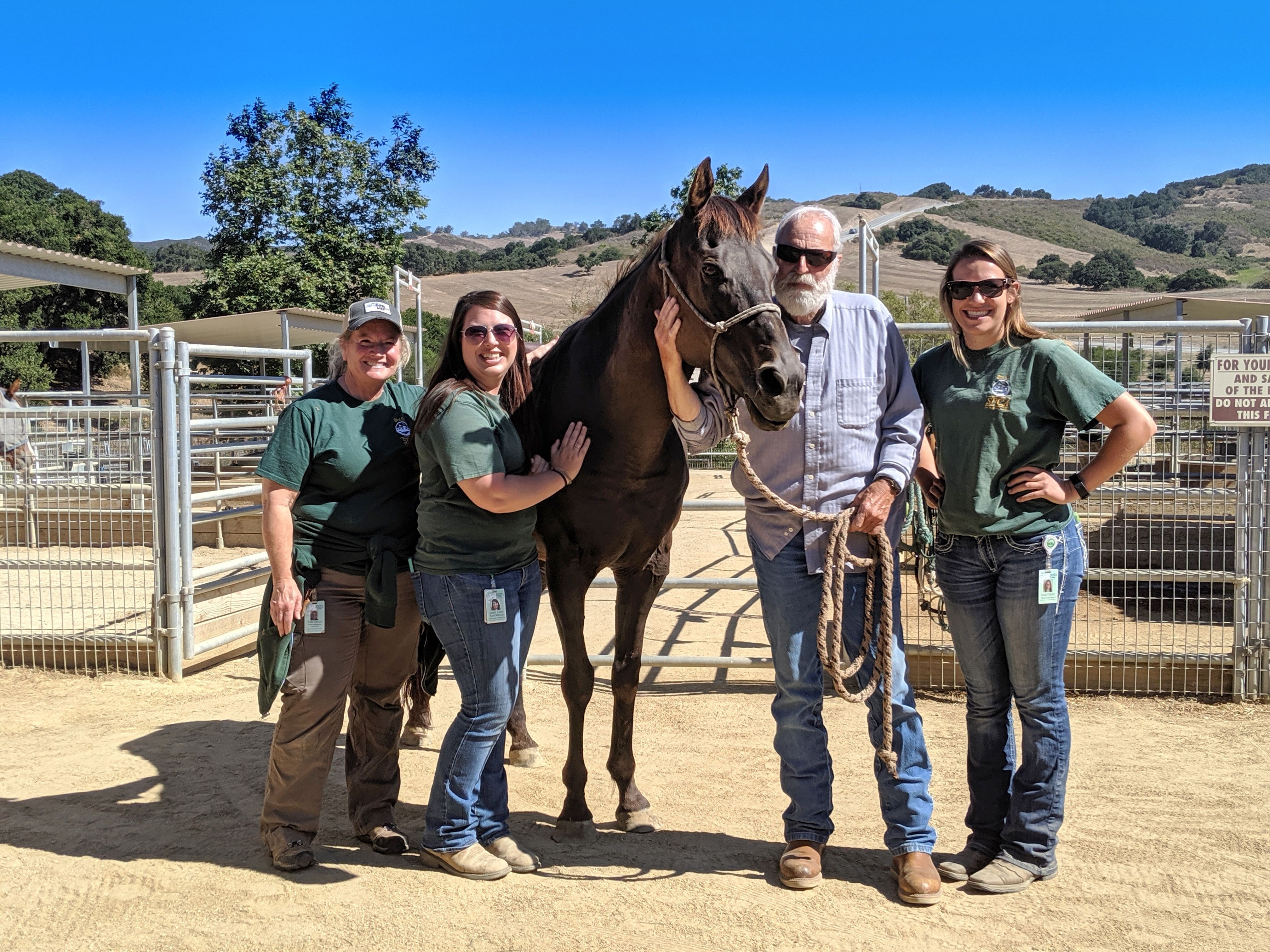 Scout came into our care in February 2017. We labeled her a Humane Investigations influenced owner surrender, meaning we persuaded her owner to relinquish her and knew we would have much work ahead to make her adoptable. Scout was very rough around the edges and underweight, a 2.5 of 9 on the body score with a skin condition that left her hair patchy and bald in places. She also had a fibrotic myopathy in her left hind leg; she had torn her back hind leg muscle and it healed incorrectly leaving her lame forever. Due to this, she was deemed a pasture/companion only horse.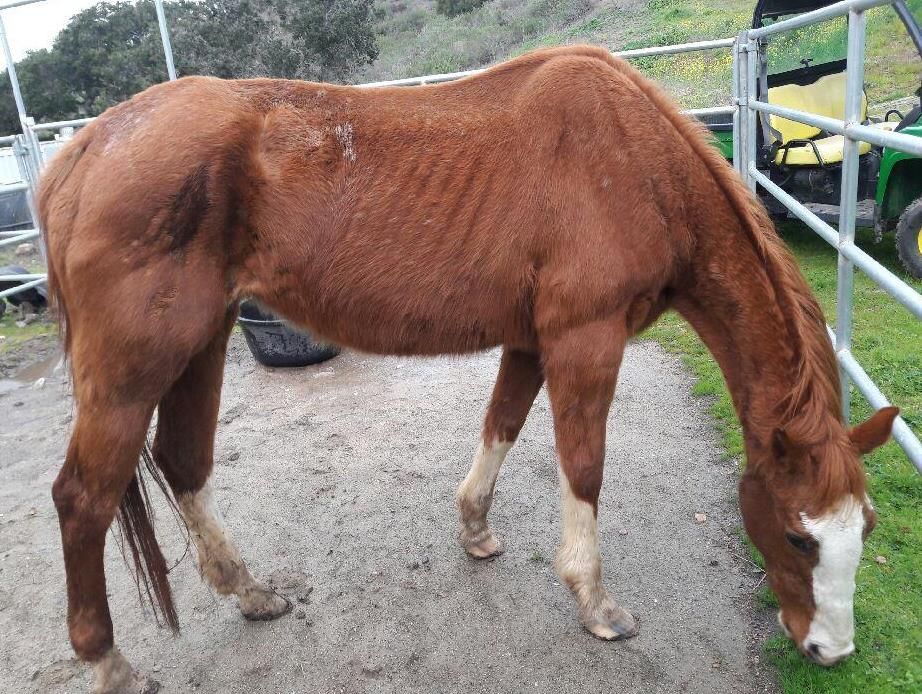 Over four months, we carefully nursed Scout to a much healthier 4 of 9 body score. We learned this 18 year-old was easy to handle, had a gentle temperament, and loved belly rubs. We provided a special diet because her teeth were never maintained and supplements to help with mild arthritis. Still, we feared she might be with us for the rest of her days. You can only imagine how our Barn staff felt the day they received an inquiry from a family interested in a companion for their old gelding, Tuffy. It was love at first sight and they headed home to Templeton.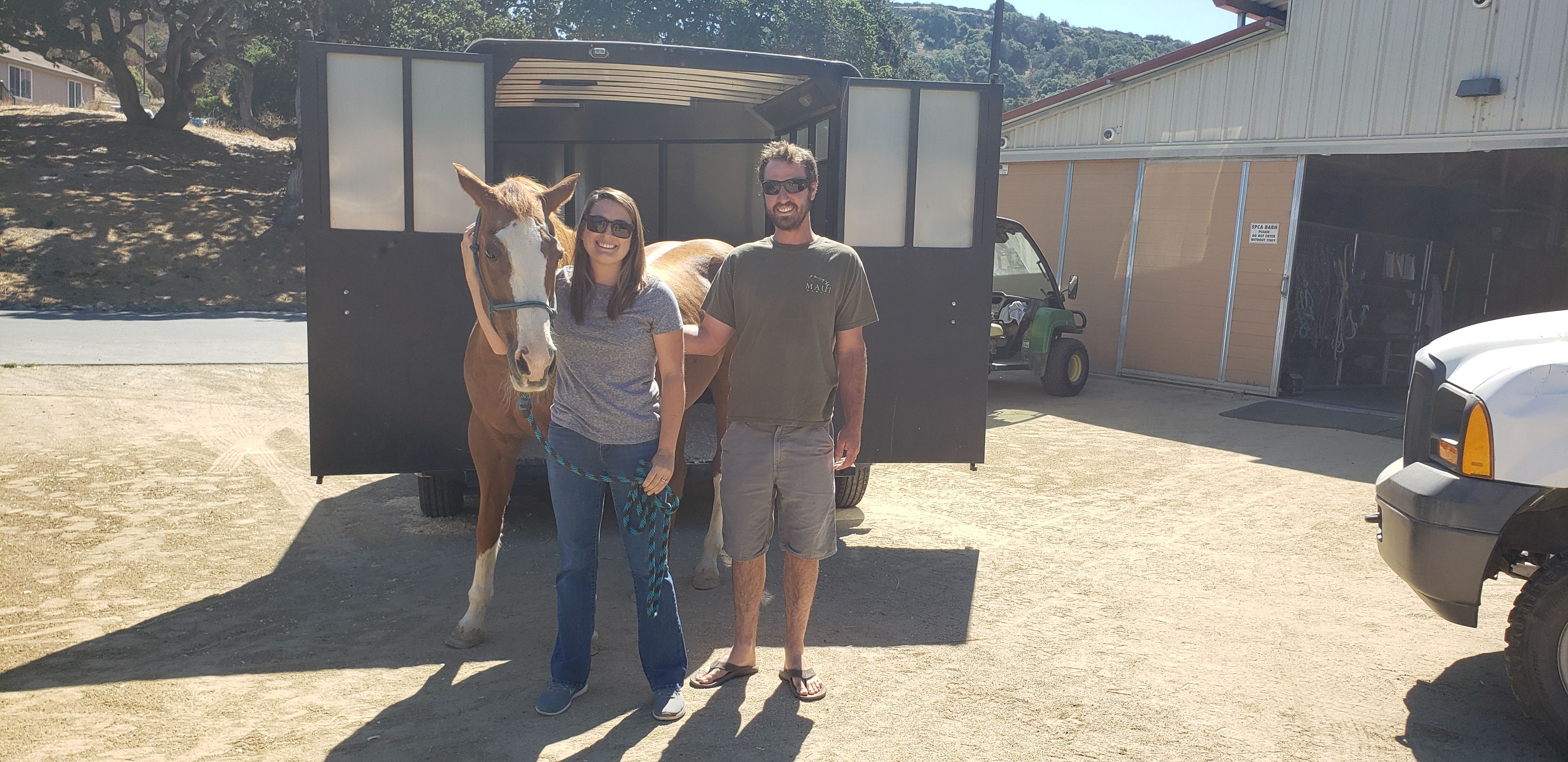 When most people think of our life-changing and life-saving work, they think of dogs and cats and might not consider that our mission includes helping horses and other barn animals as well as all our area's sick, injured and orphaned wildlife. Through the generous support of donors, our compassion runs far and wide making us unlike any shelter in the country.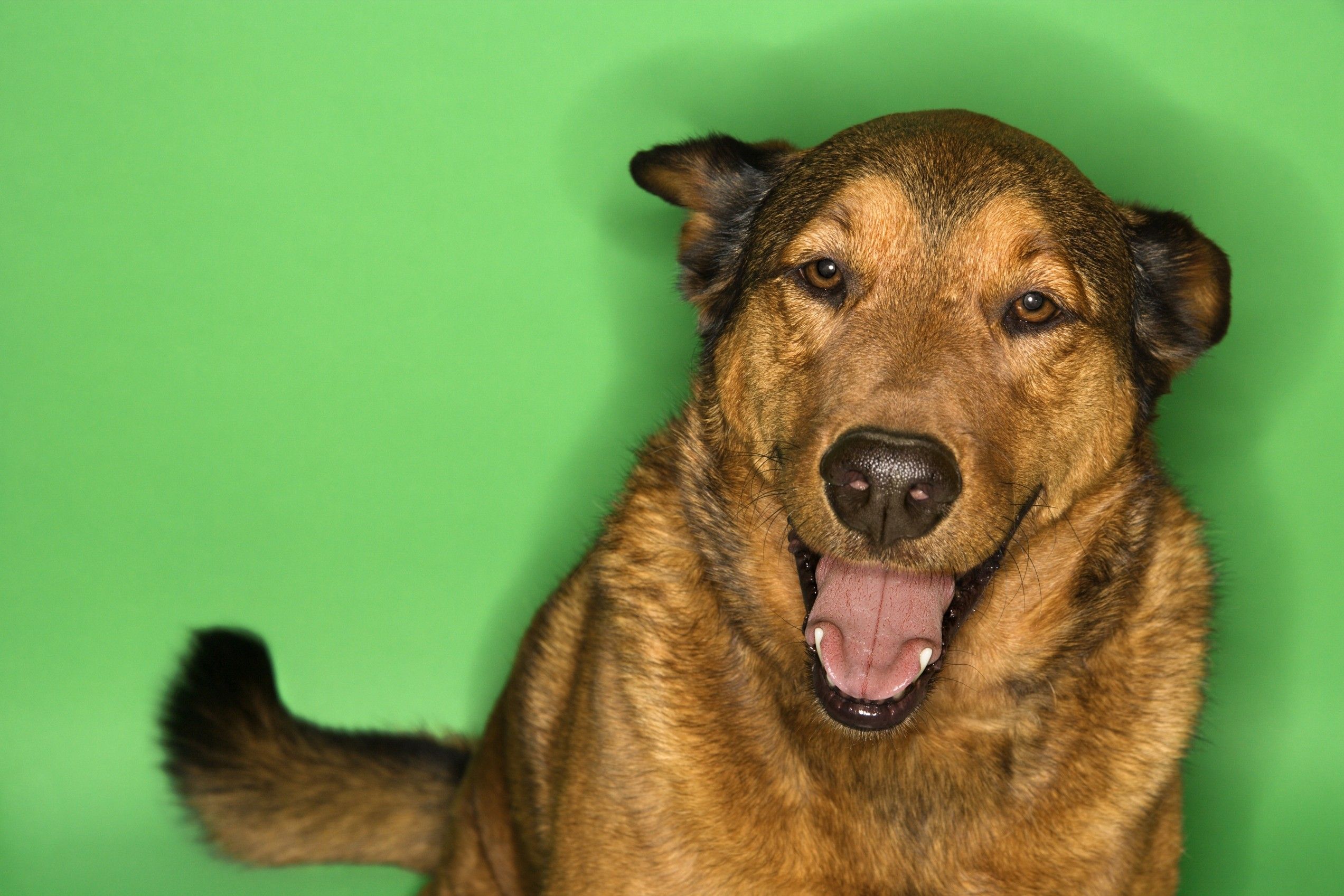 Join the pack.
Want to learn more about us and how we help people, pets, and wildlife? Sign up below to receive SPCA eNewsletters.