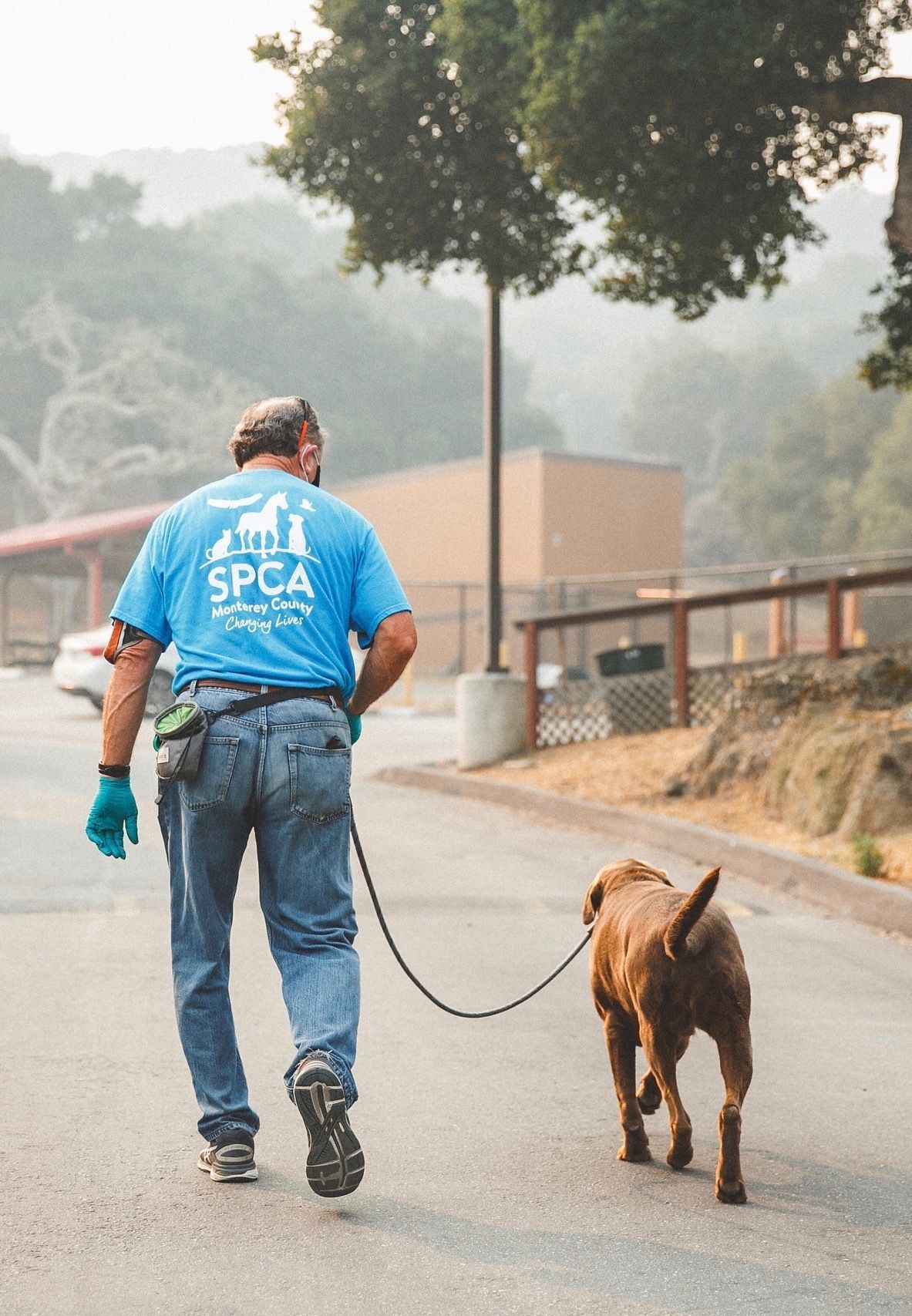 Moments during our response to the River, Carmel and Dolan Fires I won't soon forget…
The flood of animals into our center as soon as evacuations were ordered and people needed the SPCA for emergency boarding. Once our kennels filled, we turned our dog training room into temporary housing.
At the peak of calls from residents for emergency boarding, we overheard an SPCA employee calmly speaking with an owner. "And how tall is your camel?" she asked. This was a harbinger.  We evacuated, rescued or cared for more than 1,200 animals and dogs and cats made up less than half of that total.  Our temporary residents included horses, goats, chickens, rabbits, pet birds, llamas, tortoises, emus, and more.
The evacuation from our own campus, when CalFire felt strong winds might push the fire dangerously close to us. We had planned for this scenario and evacuated to the Monterey County Fairgrounds where we had a long-standing agreement. I won't forget the convoy of volunteers who helped us transport animals.
The sight of flames from the River Fire moving aggressively up and down the foothills near my family's home.  We were evacuated, as were other SPCA employees. Hours after we left, my wife sobbed uncontrollably when she realized we left behind a portfolio of our kids' keepsakes under the bed. 
The creative use of space at the Fairgrounds. We housed dogs in one building, cats in another. Small animals and exotic pets made their temporary home in a ballroom, where we protected carpeted floors. Staff used the area behind the ballroom's bar for ducks and our predominantly female team tucked geese into the men's room. We turned a grassy space into a habitat for 12 tortoises!  One quickly found himself in a timeout.  "He was being naughty," staff told me.  This 125-pound guy hadn't seen many female tortoises and was getting frisky.  
The sea of Amazon packages with donated animal supplies from our Wish List and the overall love and support from so many individuals and groups.
The reunions when owners returned for their pets.  Think of Dino the dinosaur rushing Fred Flintstone, knocking him over, then licking his face. We saw that many times.  We also saw owners who lost homes coming back for the only thing they had left. 
With these three fires behind us, we're back to the previous challenges of helping the community's animals during a pandemic.
Thank you for your love and commitment to the animals. We truly could not have responded to the fires the way we did without you. Your support makes our work possible, regardless of the situation and scope.