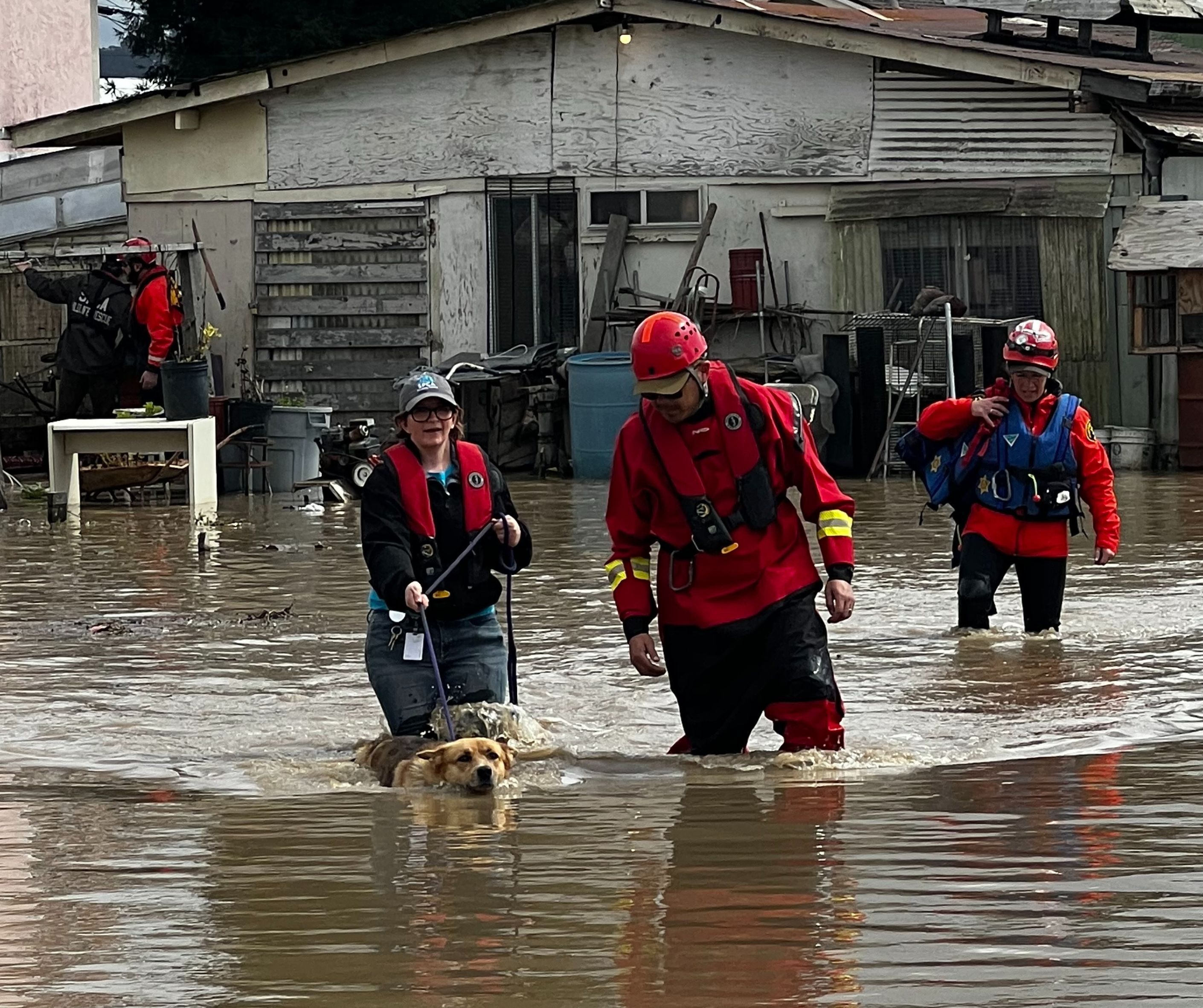 In the wake of the disastrous levee breach and flooding in Pajaro in March that had a devastating impact on people and their pets, PetSmart Charities is providing a $38,547 grant to SPCA Monterey County's disaster response efforts. This grant covers the cost of the SPCA's Pajaro disaster response not previously funded by community donations.
SPCA Monterey County cared for more than 250 pets evacuated during the Pajaro flooding, sheltering hundreds for many weeks until their owners were able to care for them. The SPCA also rescued dozens more pets from flooded areas and reunited them immediately with their loving families and provided thousands of pounds of pet food and supplies to Pajaro families with pets. After the disaster the SPCA continued to provide pet food so Pajaro residents could focus on their homes and not worry about feeding their pets.
The evacuated pets include dogs, cats, chickens, parakeets, doves, parrots, canaries, cockatiels, pigeons, finches, a rabbit and an iguana.
Disaster response grants made by PetSmart Charities promote people and pets staying together during crises, when they need each other most. When people suffer during natural disasters, their pets often suffer too. As important members of the family, pets, too, have urgent needs for shelter, medical care, nutritious food, and social support.
"When disaster struck in Pajaro, SPCA Monterey County was immediately there to help," says Scott Delucchi, SPCA Monterey County President & CEO. "Our disaster response team waded through deep water and sticky mud to rescue dozens of animals from flooded areas and reunite them with their loving families, and we sheltered hundreds more, keeping them safe while their families recovered. All our disaster response services are free to our community, thanks to the support of our donors and this generous grant from PetSmart Charities."
"When disaster strikes, pets and people need each other even more," said Kate Atema, director of community grant initiatives at PetSmart Charities. "Unfortunately, unpredictable events sometimes leave pets in harm's way, but we're grateful for the first responders and partners who understand that disasters affect pets too. We're happy to support the SPCA of Monterey County and the important work they do to deliver shelter, rest and reunification."
SPCA Monterey County is always here for our community during disasters. To learn how to prepare for a disaster, please visit www.spcamc.org/disaster.